Textile Spare parts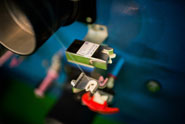 Fil Control is an equipment manufacturer for the thread textile industry, including design, development and industrialization. The company offers three main categories of products on the textile market: yarn sensors, yarn cutters, quality control devices and spare parts.
Fil Control Textile Spare parts Expert
Fil Control has been specializing in spare parts manufacturing and commercialization dedicated to textile machinery for more than 20 years. Specialized in studying, developing, producing and selling equipment devices for the textile machinery industry, Fil control supplies all kind of spare parts, whose mission is to be as close as possible to the textile market and to its partners, in order to enhance, make reliable, make safe, and increase the productivity of textile units. More than 20 years of experience in spare parts manufacturing gives Fil Control's products a touch of excellence.
The spare parts manufactured and commercialized by Fil Control present a higher quality and a longer lifetime than other spare parts on the textile market.
Thanks to its expertise, its specific skills and its technical and in-depth knowledge, Fil Control is now the leader of spare parts for the textile industry.
Generally, spare parts maintenance and inventory policies are treated separately or sequentially in the textile industry. In some cases, like twisting operations, the maintenance can result in a significant reduction of broken threads, an enhanced resistance, an elongation and an energy saving.

Research, development and innovation in the Yarn Industry

Thanks to Research and Development, Fil Control supplies all kind of spare parts and offers a wide, exclusive and diversified range of spare parts which are lasting, affordable and available in precise dimensions for an immediate use in the manufacturing of textile products and clothes.
The wide range developed by Fil Control in terms of spare parts provides a solution for all textile machines that we can find on the market and allows to meet the various needs and requirements of its customers all around the world.
Thanks to its research department in electronics, mechanics and design, Fil Control innovates and expands its offer in terms of spare parts, taking into account its customers' and partners' general needs and specific requirements, and by adapting to new textile machines and particular applications.
Global textile spare parts manufacturer

Fil Control has been targeting the whole textile market for a long time, thanks to a marketing and commercial policy of globalization. Fil Control is a world-famous player in the textile industry. The company is well-known for its spare parts, used for every textile machines. The expertise and know-how of Fil Control in terms of spare parts are recognized worldwide.
Textile spare parts produced by Fil Control are selling all around the world, through its sales department and its agent network.  Fil Control's customers are major machine builder groups all over the world and yarn processors interested in machine conversion.
A lot of the world famous textile machinery manufacturer already trust in Fil Control for many years: OERLIKON – FADIS – SAVIO – RATTI – ICBT – VERDOL – NSC SCHLUMBERGER – AIKI – BELMONT – GALAN – HAIYUAN – HONGYUAN – CORAL – TAITAN – KAIGONG – PACIFIC – JINGWEI GROUP and many others.
Fil Control especially provides spare parts for the textile emerging markets, such as the Asian textile markets, where textile is booming. For example, Fil Control has been present in China since 2005 with a subsidiary in Wuhu, which is a manufacturing plant, in order to fit with the market. Thus, spare parts have to be adapted to every machine we can find all over the world. This requires a lot of research, investment and adaptation from the company.
The company employs about 200 people in the world to produce and sell spare parts. Thanks to this reactive, available and competent team, Fil Control succeeded in making its spare parts manufacturing a global production.
If you need more information about spare parts, don't hesitate to contact us or to ask us for a quote.    
Read about the other categories of products offered by Fil Control: