French textile equipment: back on track
Updated: 2021/12/7 17:56:07
France is the sixth textile equipment exporter worldwide. The French Textile Equipment Manufacturers are well known for their catalogue and tailor-made equipments. They also offer turnkey solutions including one or several companies in a one shop model. They are particularly strong in long fibre spinning (wool, acrylic …), yarn twisting and control (including technical yarns), space-dyeing, heat setting for carpet yarns, carpet systems, bleaching and hydro-extractor equipments, dyeing and finishing, felts and belts for finishing processes, precision machining and textile ERP.
Before the pandemic, they have had several record years and had built a strong momentum thanks to their innovative equipments and services. Then, when Covid 19 hit, they had strong financials which enabled these companies to navigate through 2020. Many customers' projects were postponed and even the sales of parts went way down as, all over the world, the textile factories closed down for several weeks or even months.
"Now, we are back on track but face new challenges. During the 2021 first semester, the order intakes have benefited both from a catchup effect and from the strategic need of our customers to design new products, and invest in state-of-the-art technological equipment to produce them in a secure and sustainable way. Solid sales are following but we face a challenging cost inflation environment and supply chain constraints." says Hugues Schellenberg, UCMTF President.
These constraints are more or less severe depending on the equipments offered by each company.
Fil Control offers electronic control devices for machines producing or processing yarns. Cedric Schlicher states: "For sensors, electronics components are key points. Manufacturers like STMicroelectronics, Texas Instrument and Microchip have been increasing they delivery time from 8 weeks in 2020 to more than 84 weeks today for many components. Some of these manufacturers don't even provide delivery date confirmation anymore and require a 18-month order plan without cancellation neither modification. On top of it, the average price of such components has increased drastically. The solution for us is to mobilize the R&D department to find equivalent or even to modify the design of the product to avoid using missing components.  When an equivalent or a redesign isn't possible, the last way is to use so called "electronic brokers" that resell stock for 5 to 20 times the original price.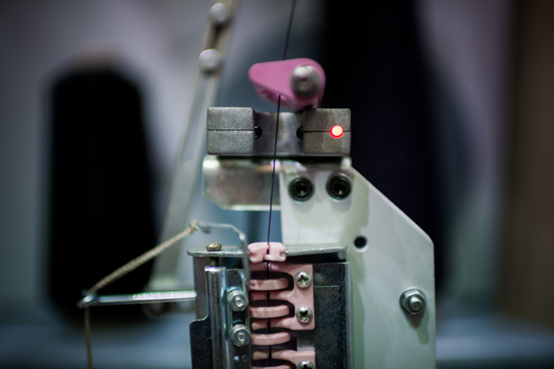 Fil control DETECTEUR
By increasing our stock policy ahead of time, and by working constantly together between R&D/sales/purchase departments Fil Control has showed his flexibility and resilience. We have adapted our organization and built solutions to keep our delivery service as high as possible in this current situation".
Dollfus & Muller do not incorporate electronic devices in its equipments but still has to face the world-wide logistical hurdles. As CEO of Dollfus & Muller, Hugues Schellenberg states, "many times we had to change our production program to make sure that we could deliver almost each and every order in time.  Fortunately, we have stocks of raw material which allowed us to switch from one production program to another.  Regarding the huge rise in price for logistics, we had to discuss with our customer for at least sharing the increase in the cost and increase our prices in a responsible manner. Up to know we found comprehensive customers who are probably facing the same challenges. Let's hope that 2022 will come back to reasonable pricing and timing".
For another specialty equipment manufacture, Ebelmann who offers special precision mechanics, mainly oriented towards spare parts for weaving machines, orders have been coming back strongly since the beginning of the year and are now above the pre-pandemic level. Laurent Lejosne, the CEO, explains that "our delivery time are longer than usual due to the delays we incur to receive our raw materials, particularly steel and tungsten carbide. Procurement of our raw materials has become a real time-consuming part of our activity and our delivery times are putting some tension with our customers. Another source of tension with them are due to the price increases we are suffering on these raw materials and the energy. We have to pass these cost increases to our customers as our margins cannot absorb them."
Ebelmann
Hugues Schellenberg concludes "Our customers and us are back on track, we are back to or above the level of activity we had before the pandemic but we face new challenges in the short and long runs. We remain focused on executing our strategies of customer-oriented R&D and global customer service. These strategies enabled us to build strong momentum before the COVID crisis and navigate through the crisis. They remain the right strategies to deliver balanced growth and value".
More info on The French textile equipent can be found on the association's website www.ucmtf.com  It has be redesigned and since then receives more than 2000 visitors each month. It is a very friendly hub.
Source: UCMTF